Hangzhou, Zhejiang, CN
Age House


The project is located in Qingzhiwu of West Lake. Its overall lighting design has created an immersive experience.

In architectural structure, the exterior of "AGE HOUSE" is composed of blue bricks and black tiles as well as a small courtyard with trees, which is fresh and elegant. When the night is approaching, the quiet courtyard and the low-profile and soft lighting demonstrate the texture of the green brick surface. Meanwhile using light to depict the plants enables the trees surrounding the house to appear to be shining with light at night.
该项目坐落在西湖青芝坞,整体灯光设计打造出一种沉浸式体验。
AGE HOUSE外部拥有青砖黛瓦的建筑结构,带有树木的小院清新雅致。当夜晚来临,庭院是幽静的,灯光是低调柔和的,展示了青砖表面的纹理和质感,同时用光来描绘植物,使房屋周围的树木仿佛在夜晚散发着光芒。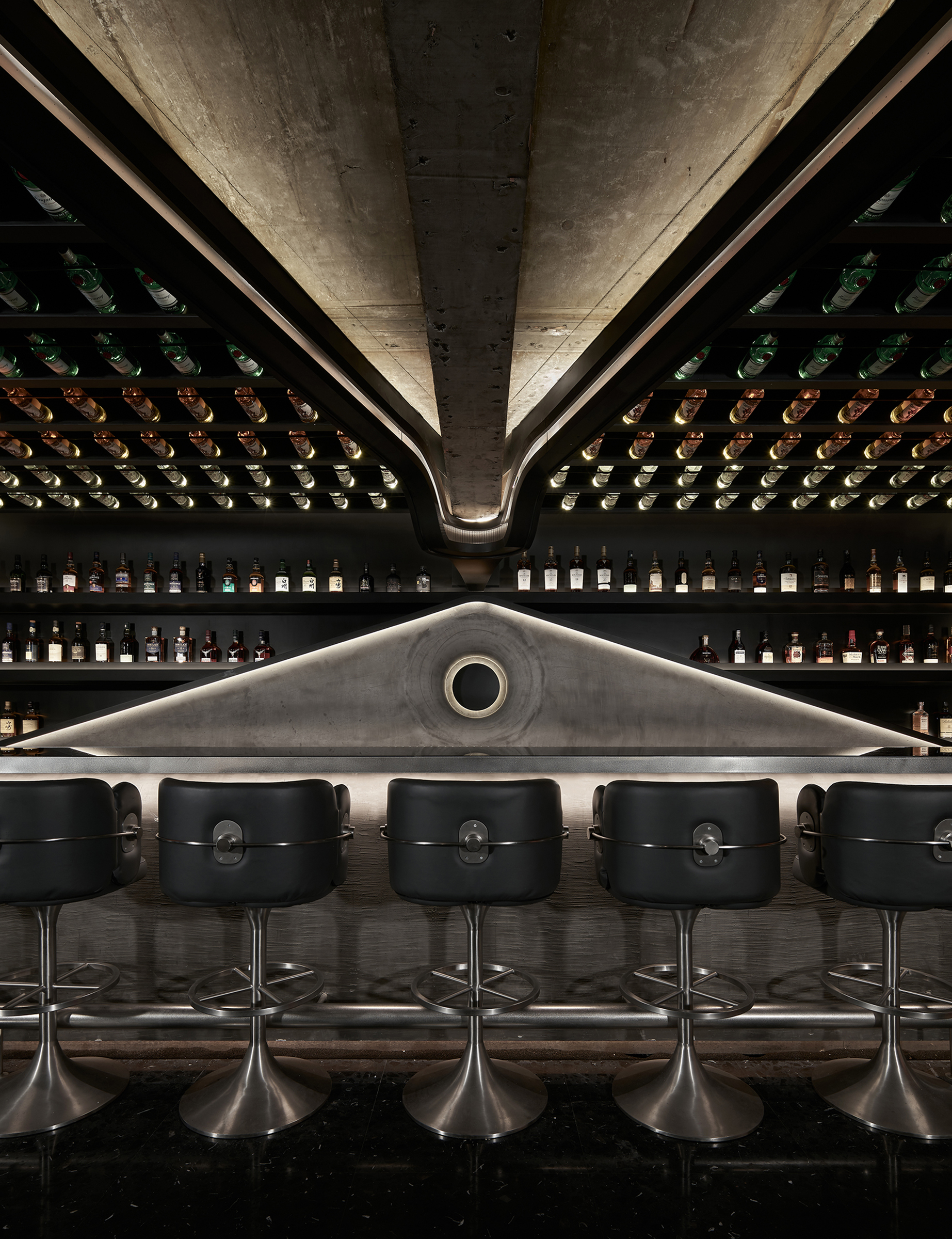 The space on the first floor is centered around the core bar area. The metal and iron wine cabinet display rack are cleverly connected with the ceiling modeling, supporting decorative lighting and filling the space with a dramatic atmosphere. The modeling of the entire wine cabinet and ceiling is outlined by adopting a backlit belt from the facade making it detached from the wall and adding a touch of floating and lightness to the entire modeling. In the meanwhile, illumination is realized by adopting LED dot matrix lighting right under each bottle, showing the transparency and colors of carboys. The skillful merge of soft and modest lighting and ferrous metal may be the new interpretation of black bricks and black tiles of another version of people leaving the broken bridge.

一层空间围绕核心吧台区域,金属铁艺的酒柜展示架和天花造型巧妙的连接在一起,承载了装饰性采光也使得区域空间充满戏剧氛围。用一条背光灯带从立面开始勾勒了整个酒柜和天花的造型,让整个造型从墙面脱离开,为整个造型增加了一丝漂浮感和轻盈感;同时在每个酒瓶的下方,采用LED点阵进行照明,展示出玻璃瓶的通透感和色彩,柔和谦逊的灯光和黑色金属材质巧妙融合,这或许是对青砖黛瓦新的解读亦或是人们勾留断桥的另一个版本。
The unification of the light bars and structural light slots has created a lighting effect of the coexistence of decoration and practicability. For Example, when the close-up irradiation is used on the wine mixing console, only light is left on the table. The practice of irradiating the desktop has eliminated the dazzling impact, making space to be equipped with a sense of atmosphere.

吧台则使用灯条与结构灯槽的结合创造装饰和实用性并存的照明效果,比如调酒操作台实用近距离照射,将光只留在桌面,摒弃了顶部灯具照射桌面的做法消除了眩光的影响并使空间更具氛围感。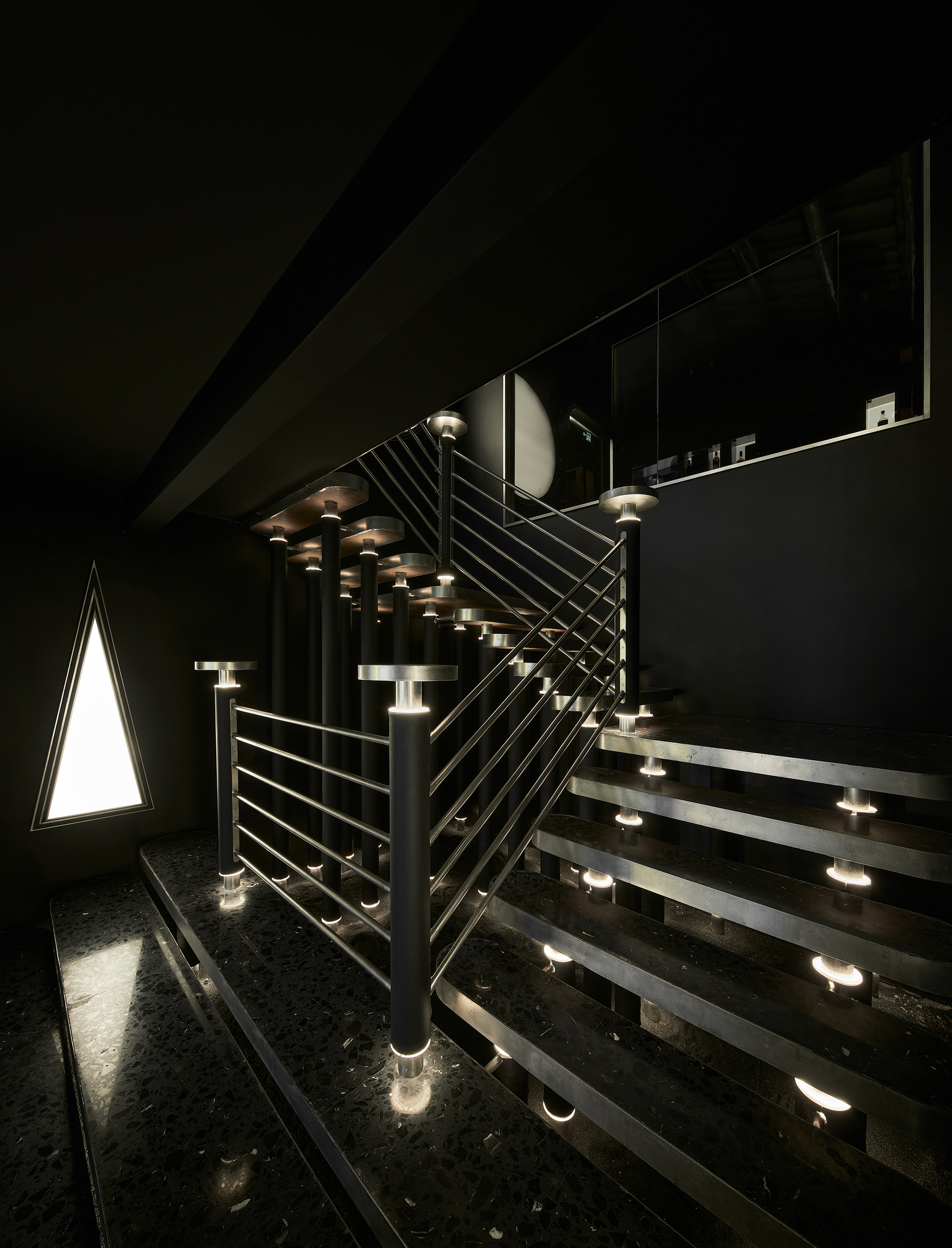 Illumination is carefully integrated into the building and the device's sculptural structure, with hidden lights and metal, finishes connecting each space, incorporating light into the details of the project, making light inseparable from the architectural aesthetics.

照明被精心整合到建筑和装置造型结构中,细节中隐藏的灯具以及金属饰面串联起每个空间,将光融入项目细节中,使光与建筑美学密不可分。