Shaoxing, CN
An Chang, A change

Exhibition: "An Chang,A Change 焕然·安昌" 光影艺术季

Location: Zhejiang, China - Anchang Town,Keqiao District , Shaoxing
Installations:Sky & Dimensionality



At the beginning of the New Year 2023, YAANK LAB was invited by "An Chang, A change" lighting festival to bring "Sky" and "Dimensionality" to the ancient town of Anchang, Shaoxing, to create a new collision and fusion between contemporary lighting art and the classical Chinese aesthetics.


2023新年之初,YAANK LAB 受"An Chang, A change 焕然·安昌" 光影艺术季的邀请,将"青空"和"维度"带到了绍兴安昌古镇,使当代光影艺术与桨声灯影、灯火阑珊的中国古典美学产生新的碰撞与融合。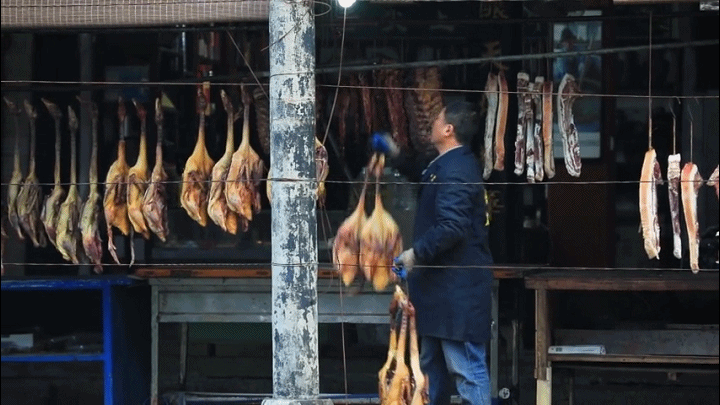 The town was named Anchang in 896 AD after King Qianmu of Wuyue, who was ordered by the Tang imperial court to settle the Dongchang Rebellion. The ancient town of Anchang has a 1,747-metre-long old street. The old street is built along the river, with residential houses to the south of the river and a commercial market to the north.


公元896年,吴越王钱缪奉唐王朝之命屯兵该地平定董昌之乱,遂命名为安昌。安昌古镇有一条长达1747米的老街。老街依河而建,河之南是民居,河之北为商市,两岸之间有古桥相连,是典型的小桥流水人家模样。
The ancient street was built in the Ming Dynasty during the Chenghua and Hongzhi years. The street was built from the Gaoqiao Bridge in the east to the Qingdun Bridge in the west, along the river, the street and river are all paved with local Shaoxing stone slabs. Along the river are promenades with roofs, shops and workshops with various traditional features, a patchwork of tilting cottages, quaint houses and deep alleyways. The people living here retain a more traditional way of life.


古街始建于明朝成化、弘治年间。东起高桥,西至清墩桥,濒河设街,街河相依,街面全由绍兴当地的青石板铺成。沿河是带着顶棚的长廊,各种传统特色的店铺作坊,错落有致的翻轩骑楼,古朴民宅,幽深小弄等,生活在这里的人保留着较为传统的生活方式。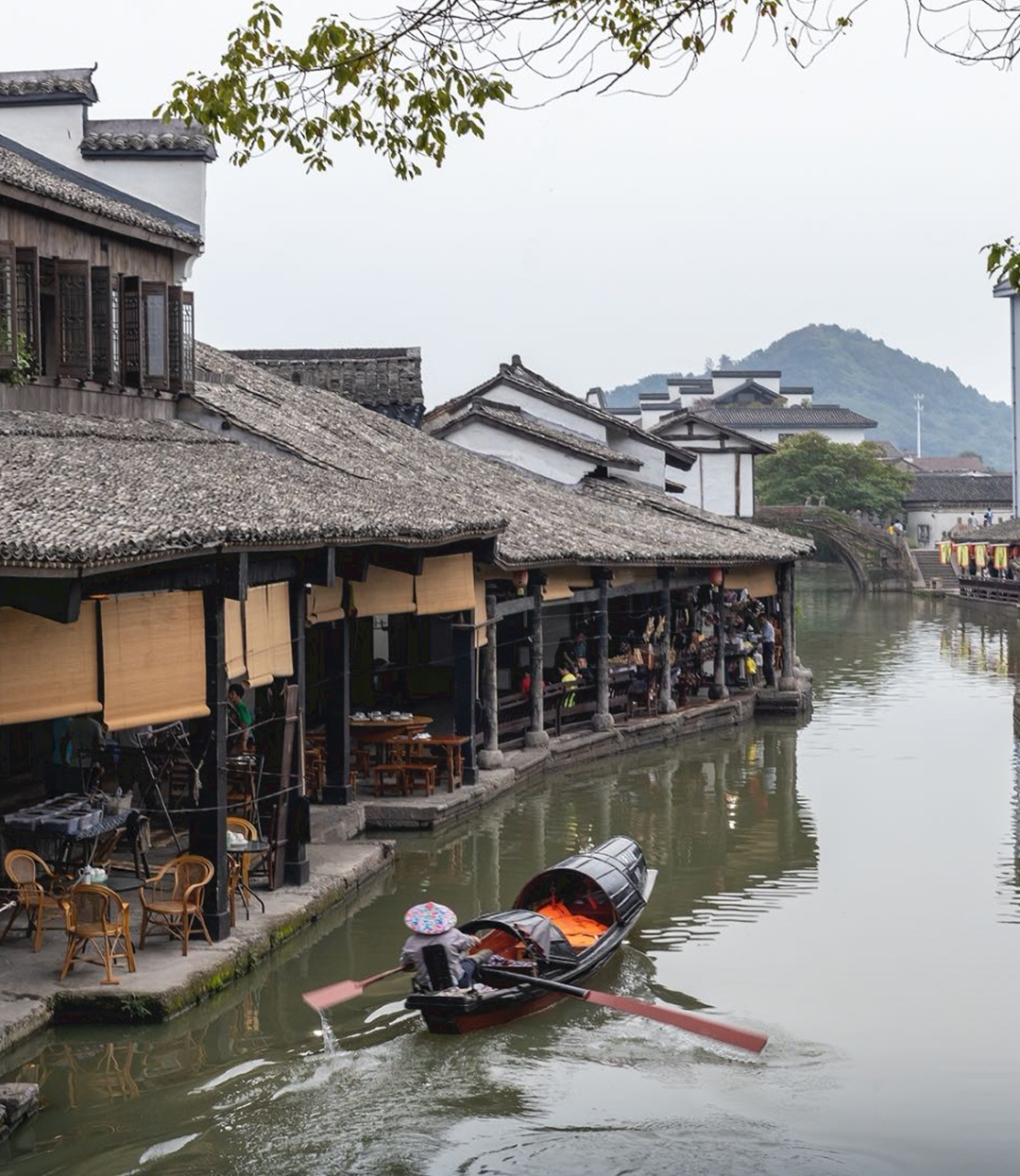 This time, more than ten globally artists stayed in Anchang, using the concept of "flavor, fireworks and light years" and the inspiration of "the blue water running through the street and millions of dwellings, the rainbow crossing the river and seventeen bridges" as inspiration, using new media materials and technology innovation to create the Lighten up Anchang" . The art exhibition will light up both sides of the river and create a new look of the town of "Anchang at night" with the posture of light and shadow.




安昌的桥有"拱、梁、亭"各式,千姿百态,古朴典雅,素有"碧水贯街千万居,彩虹跨河十七桥"的美誉。

此次国内外的十余位艺术家驻足安昌,以"风味,烟火,光年"为概念,以"碧水贯街千万居,彩虹跨河十七桥"为理念灵感,运用新媒介材料、新媒体技术创新打造《焕然·安昌》光影艺术展,点亮一河两岸,以光影之姿塑造"不夜安昌"的古镇新貌。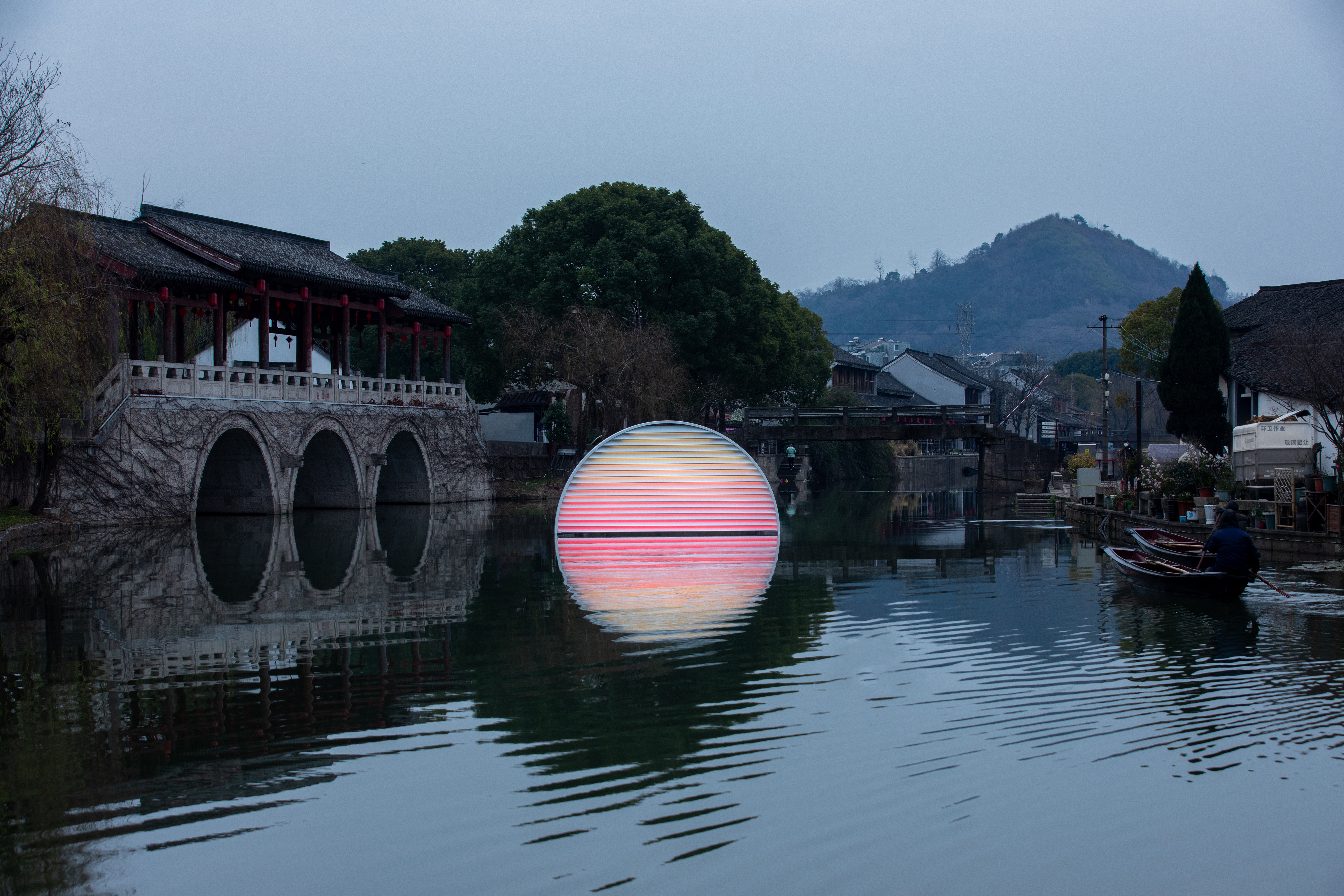 Throughout the history, the natural environment has determined the state of culture. The rivers and waterways of the Jiangnan region were so densely populated that people chose water to live in, and water naturally formed a close relationship with people. "The rich and colorful water culture had a profound influence on the clothing, food, housing and transport of the ancestors of Jiangnan.


古往今来,自然环境决定文化状态。江南地区河道纵横,水流密布,人们择水而居,水便自然的与人结成了某种亲密的关系。"窗外闻橹声,门前连市井"丰富多彩的水文化,对江南先民的衣食住行产生了深远影响。

The Sky installation is a water-based light art installation placed on the water of the river between Yang Ming Bridge and Anchang Bridge. Drawing on the traditional Chinese art of ink painting, the installation uses artistic techniques to amplify the aesthetics of Anchang's 'water'. By focusing the visitor's gaze on the water, the surrounding scenery becomes a painting. Once painted, everything in front of you is tainted with 'ink charm', and the reflections on the water portray a wonderful mood between the architecture, humanity and light installations of the ancient town.


青空装置作为水上灯光艺术装置,被安放于阳明桥和安昌桥之间的街河水面之上。借鉴中国传统水墨绘画艺术中虚实相生的形式,用艺术的手法放大了安昌"水"的美学性。让游客的目光聚焦在水面之上,使周围的景致入画。只要入了画,眼前的万物就都沾染上了"墨韵",水面倒影描绘古镇建筑、人文和光影装置之间的绝妙意境。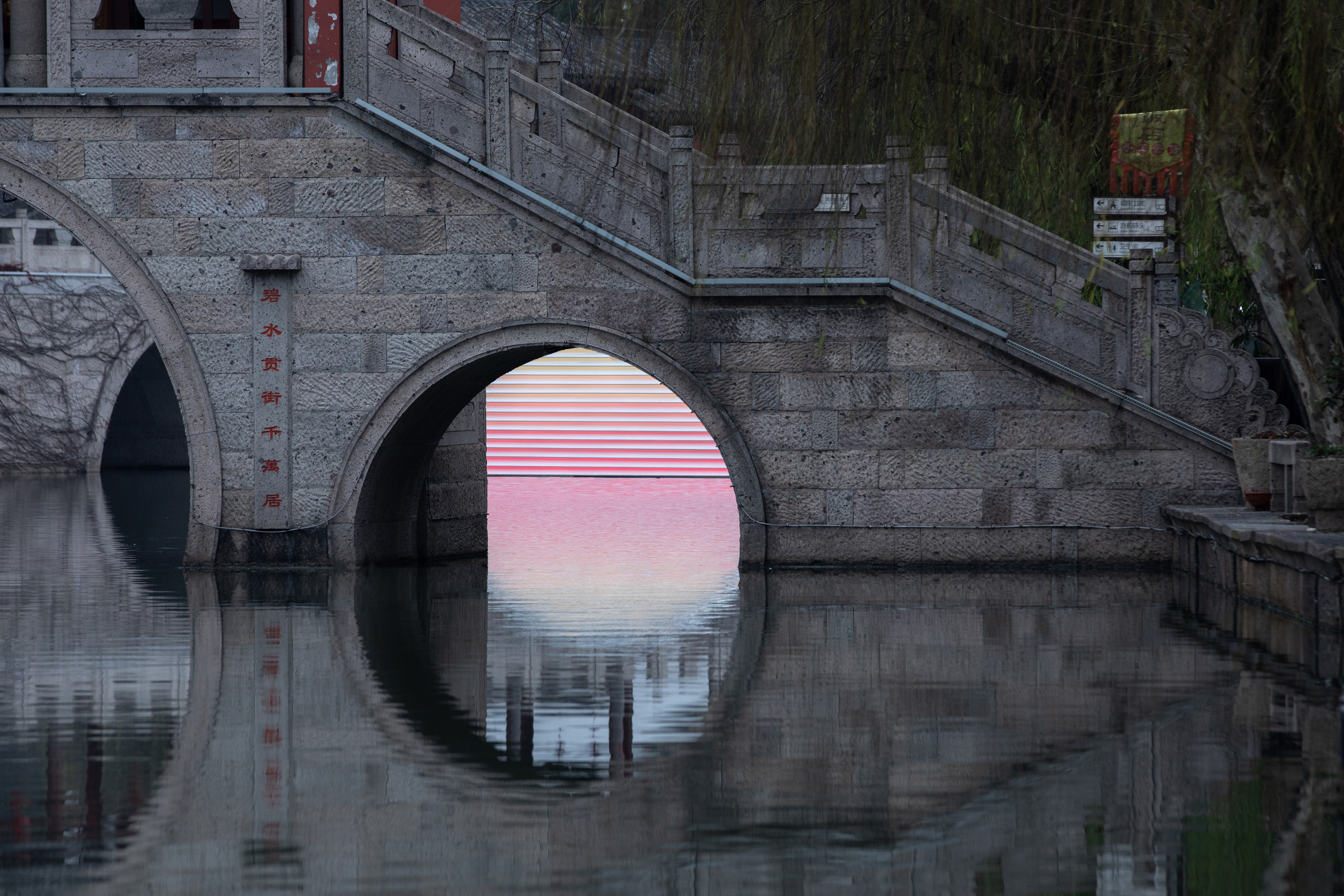 "The blue water runs through the street of ten million dwellings, the rainbow crosses the river with seventeen bridges", the shape of the 1/2 circle of the 'sky' and the bridge holes are correspondingly interesting, blending into the environment. It is a reflection of the water, forming a 'perfection'.


"碧水贯街千万居,彩虹跨河十七桥",青空1/2圆的造型与桥洞相应成趣,融入于环境,与水面相倒映,构成"圆满"。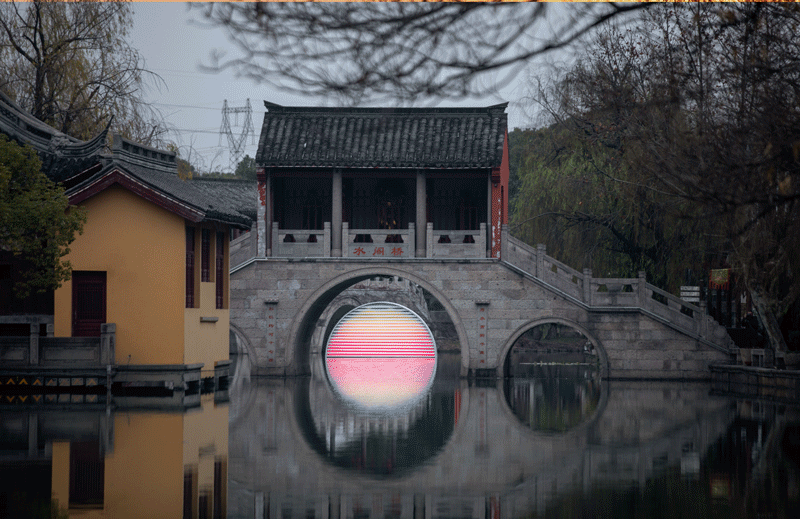 Gorgeous changing colors with the change of time and the lights of the ancient town style has produced a new collision and integration. It shows the unique cultural characteristics of the ancient town of Anchang in Shaoxing, which is full of the fire and smoke of the Jiangnan water village.


绚烂变换的色彩随着时间的变化与灯火阑珊的古镇风貌产生了新的碰撞与融合。表现出了绍兴安昌古镇独有的充满人间烟火气的江南水乡文化特色。
Theatres · Dimensionality
Shaoxing's social theatre is a well-known folk event. The Shaoxing opera is a well-known folklore activity in Shaoxing, and Mr Lu Xun, the famous Shaoxing writer, wrote many scenes about it.
"The most striking thing was a stage standing in the open space outside the Zhuang on the river, blurred in the distant moonlit night, almost indistinguishable from space, where I suspected that the fairyland I had seen on paintings had appeared. At that moment the boats went faster, and in a short time the characters appeared on the stage, moving in red and green, and near the stage the river looked black with the canopies of the people watching the play." ——The fragment is taken from Lu Xun's 'The Social Theatre'..


社戏水乡演绎越地风情。社戏是绍兴家喻户晓的民俗活动,作为绍兴著名文学家的鲁迅先生笔下有很多关于描写绍兴社戏的场景。
"最惹眼的是屹立在庄外临河的空地上的一座戏台,模糊在远处的月夜中,和空间几乎分不出界限,我疑心画上见过的仙境,就在这里出现了。这时船走得更快,不多时,在台上显出人物来,红红绿绿的动,近台的河里一望乌黑的是看戏的人家的船篷。"——片段选自鲁迅《社戏》。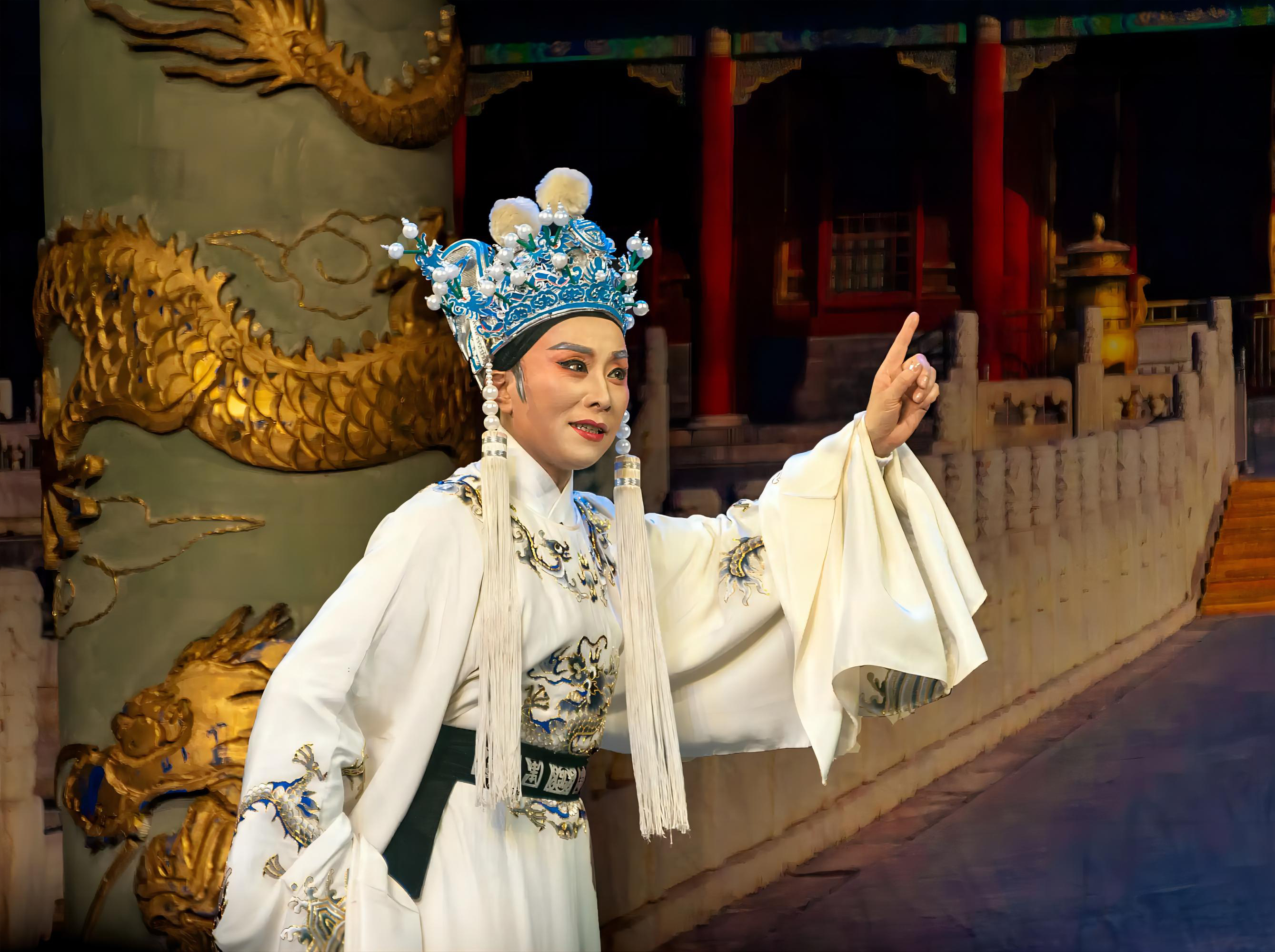 The word "she" in Shaoxing opera originally referred to the god of the land. In ancient times, the two days of worshipping the god of the land in spring and autumn were called she days (spring she and autumn she), usually after spring and autumn, and in the Tang and Song dynasties, 'She' Day became a grand festival for the people, killing pigs and slaughtering sheep, making wine and spoons, and bustling with activity. In the Tang and Song dynasties, the festival became a big event, with the killing of pigs and sheep, the making of wine and soup, and a lot of activity.


社戏中的"社",原来指土地神。古时春秋两次祭祀土地神的日子,叫社日(春社和秋社),一般在立春、立秋后,到唐、宋,社日成为民间的盛大节日,杀猪宰羊,制酒作羹,热闹非凡。发展到后来,一面以酒肉供神,一面以演戏来祭社,这样演的戏就是社戏。
The dimensionality installation has been installed on the stage next to the Hall, representing the twenty-four solar terms and echoing the social theatre stage, using contemporary light and shadow art to express the beautiful vision of rewarding the gods and praying for blessings.


在宣卷馆旁的戏台上安装了维度装置,代表二十四节气的维度与社戏戏台相互呼应,用当代的光影艺术表达酬神祈福的美好愿景。
When the Dimensionality is "show" on the stage, visitors are drawn to the stage and stop to watch as the "light" changes, diffuses, contracts and changes colour through the rotating blades...
Just like the opening of the social opera, the first hearing was attracted by the sound of babbling, when carefully listened to find the lyrical and elegant tunes. The actors on the stage are dressed in exquisite costumes, with dynamic expressions and beautiful singing voice, portraying a delicate and vivid character, very Jiangnan spirit, most likely to make the audience enchanted.

当维度在戏台"亮"相后,游客被吸引到台前并驻足观看,透过旋转的叶片会发现"光"的变化、扩散、收缩、变换色彩...
恰如社戏开演,初闻被咿咿呀呀的声音吸引,当仔细听闻后发现曲调抒情典雅。戏台上的演员穿着精美的服饰,表情灵动、唱腔优美,刻画出一个个细腻生动人物,极具江南灵秀之气,最易使观众沉醉其中。
The Dimensionality combines the original style of social theatre with contemporary light and shadow art, bringing together the life, ideas and beliefs of the people, returning to the people and preserving the precious historical and cultural atmosphere of folklore.


戏台·维度将原始社戏风貌和当代光影艺术有机结合,把老百姓的生活、观念、信仰紧密结合在一起,回归民众,保留民间弥足珍贵的历史文化气息 。
When contemporary light and shadow art collide and merge with classical Chinese aesthetics, Anchang Ancient Town is fading away and regaining its vitality.
Visitors come here not only for sightseeing, but also to experience the revival of regional culture, the ancient town has both the authentic human fireworks and the ideal dream of the future.

当当代光影艺术与灯火阑珊的中国古典美学产生碰撞与融合,安昌古镇正在褪去暮气重回活力。
游客来到这不只是观光,更是体验地域文化的复兴,古镇既有地道的人间烟火,也有理想的未来之梦。