JingHua, Zhejiang, CN
DESIRED HOME
















"Expected Home" is an Old House Renovation Project that applies architectural thinking into spatial design to renovate the old house with rhythmic light and shade stirring up the tranquility of your peace of mind ,telling a story about "home and radiance."
Home is not only a set of buildings. It is not a container for trivial things in everyday life but a place for merging emotions and love. It is like a medium with warmth, witnessing the interactivities between life and growth, recording the spatial stories, conveying the unique personalities and attitudes of its resident.



《期望的家》是一个旧宅重启项目。该项目将建筑思维融入空间设计来改造旧宅,通过律动光影,来撩拨人的宁静内心,讲述着一个关于"家与光"的故事。
家不仅仅是一套房子.家并不是容纳琐碎日常的器皿,而是情感与爱的交融之所。家是一个有温度的媒介,她见证着生活和成长的交互,记录这个空间里发生的故事,传达着居者的个性和态度。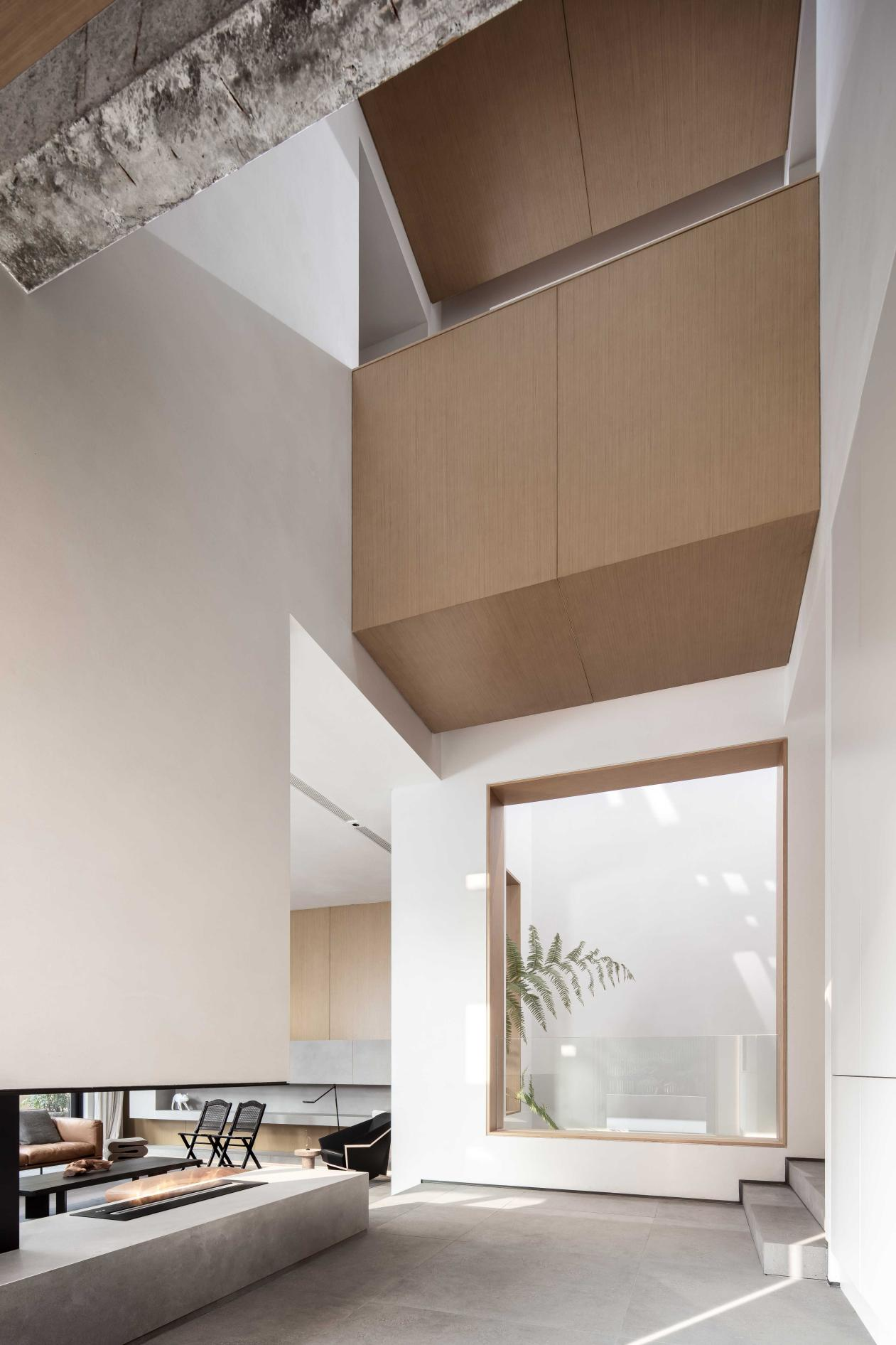 The house owner, a sixty-year-old gentleman, still stays young and positive towards life. He has an abundance of food and clothing. His families are safe and sound. Every corner of his life is bright, so he tells the young designer that his home should have "light."
Natural light is the perfect expression of spatial art and the best comfort for one's emotional perceptions. The " Expected Home" is equipped with a daylighting patio, enabling the sunlight to enter the central part of the building with the Natural light filling the entire house. The radiance angle of sunlight changes with seasons and different latitudes and longitude, and the luminous beam flows naturally within the space, forming the time-lapse image.



房主人虽是一位花甲老人,但却依旧保持着年轻、积极的生活态度。他衣食富余,亲人平安,生活里的每一处角落都是明亮的,于是他告诉年轻的设计师,我的家要有"光"。
自然光—是空间艺术的完美表达,也是人情绪感知的最佳抚慰。期望的家必须拥有一个采光天井,让阳光直接进入到建筑中心,使自然光铺满整间房子。阳光照射的角度随着季节和经纬度的不同而随之变化,光线在空间内部自然流动,形成时光推移的影像。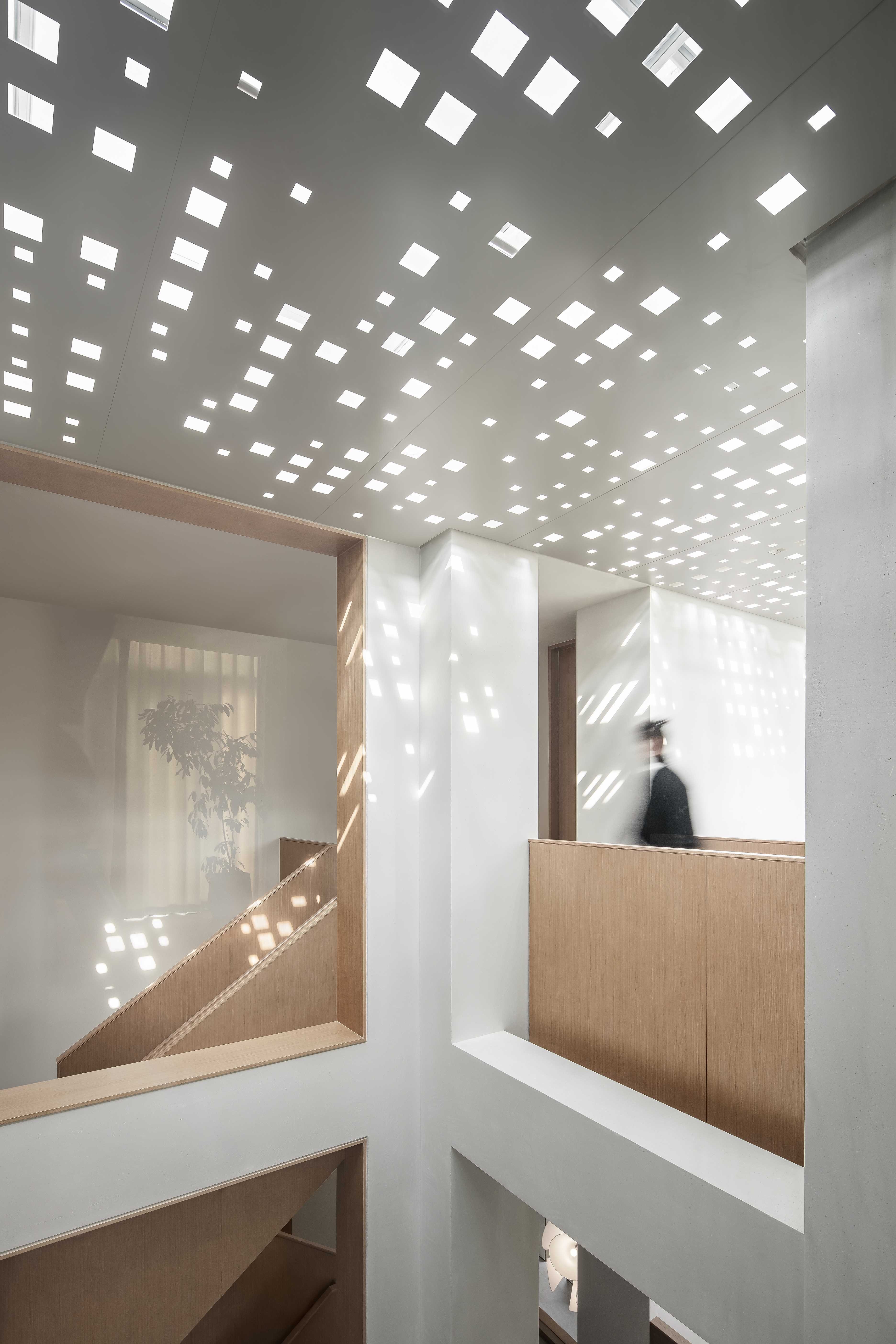 A layer of perforated aluminum panels has been added under the glass ceiling, which gives another sense of ritual to the entry process for the luminous beam. The gorgeous light and shade turn into a silent language, allowing the light to have different spatial dialogues. It is natural that people will get a surprise and a sense of satisfaction. Being able to walk through here is also very interesting. "The language for this space is relatively simple, with one sentence expressing its connotation. Occasionally there will be some surprises, which is on the whole a perception that is readable, peaceful, interesting, being able to talk to your heart and fit in with your peace of mind." —Xu Liang (Expected Home: Chief Designer).



玻璃顶下方增加了一层穿孔铝板,赋予光线进入的过程另一种仪式感。光影斑斓化作无声的语言,让光和不同空间进行对话,人自然获得一种惊喜和满足,穿行在这里也满是生趣。
"这个空间的语言会相对简单,一句话就表达了其中的内涵,偶尔夹谈着一些惊喜,那是一种耐读的、宁静的、有趣的;能够和内心产生对话又契合的整体感受。"—徐梁(期望的家:主创设计师)




Whether in the kitchen, or in the dining room, or in the other public areas, the residents can be accompanied by the sunlight from the first ray of sunlight in the morning. With the passage of time, the radiance of sunlight changes from its original implicit state and turns to be brighter and spacious. The open kitchen and dining room allow the families to enjoy more communication spiritually and verbally.



无论在厨房还是餐厅或是其他公共区域,从清晨的第一缕阳光开始人就能与阳光作伴,随着时间的推移光从一开始的含蓄变得越来越开朗。开放性的厨房和餐厅,给予家人更多精神上和言语上的交流。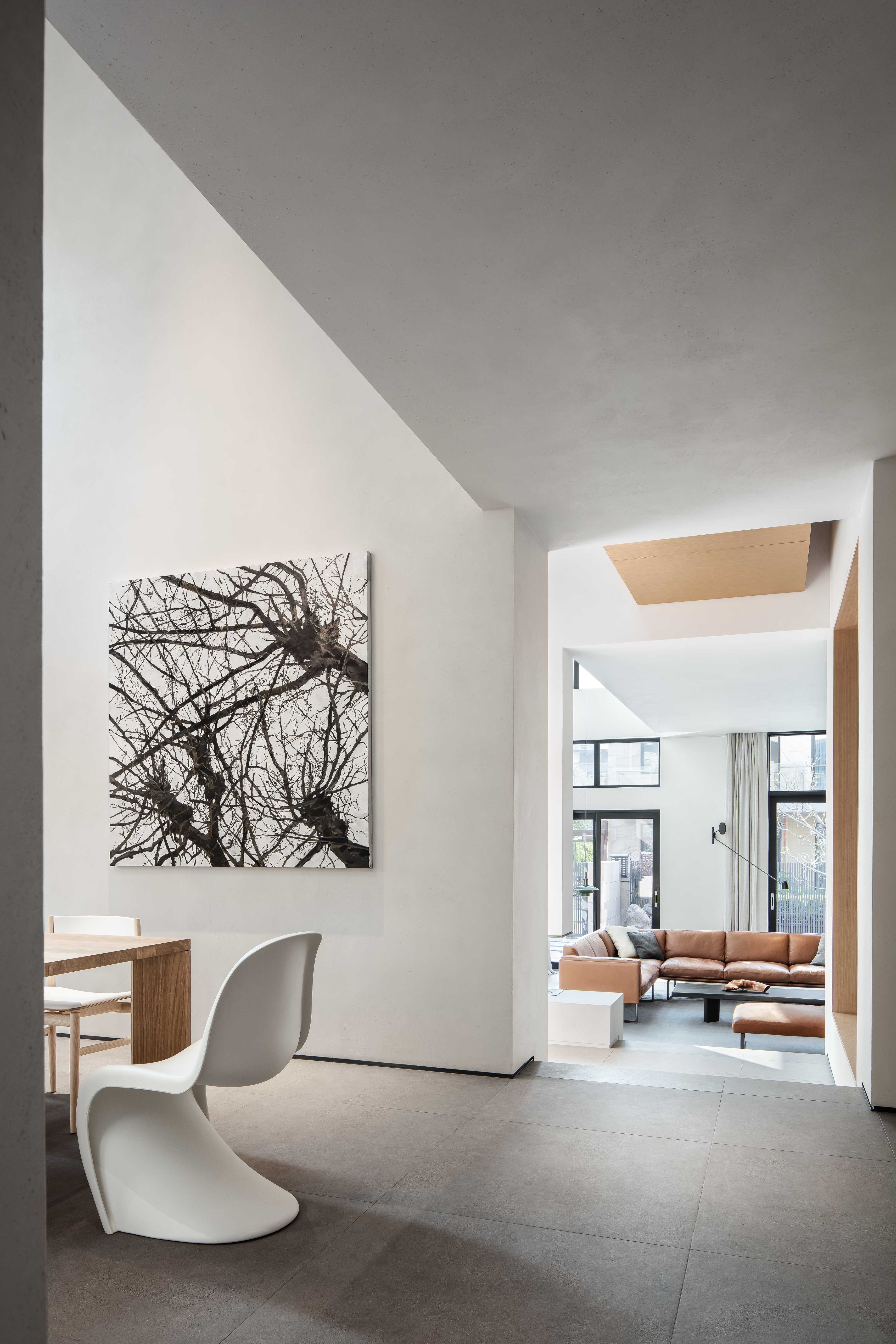 The radiance at night is characterized by its functionality and artistry. Firstly, it is convenient. Secondly, it is in line with the house owner's living habits. Thirdly, it fully plays the generation of correlation between people, space, and illumination respectively. The concept of light has been narrowed down to radiance only, which changes and flows in the house's interior, stays or has multiple spatial dialogues, and soothes people's emotional perceptions. People's psychological feelings, visual perceptions, and the emotions they want to express can be constructed and extended in the space.



夜晚的光是具备功能和艺术性的,一、功能方便,二、符合业主的生活习惯,三、尽量让人、空间与光照相互产生关联。将灯的概念弱化只留下光,让光在室内进行变化和流动;让光能够停留或对话在多个空间,让光抚慰人的情绪感知。将人的心理感受、视觉感受和想表达的情感从在空间中就构建和延续。


If we say Daniel Libeskind's architecture is an adventure of life, then the "Expected Home" is a moored harbor for all the adventurers.


如果说丹尼尔·李布斯金的建筑是"生活的冒险",那么期望的家就是冒险者停泊的港湾。