Shanghai, CN
NEOBIO
As an original Chinese indoor entertainment brand focusing on its high-quality space and super creativity in content , NEOBIO (known as "奈尔宝" in Chinese) will become the landmark for local parents and children each time it is launched in a new city . The current project, located in Zhangjiang Town within Shanghai's Pudong New Area, the hard -core high-tech cluster in China, reflects in some way the innovative prospects for humanity's future.

NEOBIO(奈尔宝)作为中国原创室内玩乐品牌,以高品质空间和超创意内容,每到一城即成为当地的亲子地标。此次的项目位于浦东张江,作为中国硬核科技的集聚区,某种程度上折射着人类未来的创新远景。
The architectural cuteness of extraterrestrial organisms-like constitutes a heterogeneous contrast against the highly modernized urban context of Zhangjiang and a harmonious complement to it. The dominant color of the brand has been maintained in the facade and neutralized into the earth-toned yellow, which matches the theme of nature. The "Pacifier" symbol along with a series of arc doors and open windows stands out against the gray -scale urban setting and the wraps up the "Homing" that nurtures a new life in a three-dimensional sculpture of "Sunshine punk".

外星生物体般的建筑萌态,与之构成异质的对比却又互为协调的补充。立面延续品牌的主色并中和为大地黄,契合自然主题。"奶嘴"符号连同一系列弧形的门与开窗,跳脱于灰度的城市背景,以"阳光朋克"的立体雕塑,包裹孕育新生的"归巢"。
The chief designer Li Wenqiang was inspired by "Aosua" which means "back mountain" in the southern Fujian dialect. That obscure back mountain in childhood memories has gradually been forgotten with the time passing by. The cascading visual illusion of the entrance resembles a time cave that is mixed up with contrasting light and shadow, through which you will open up a journey for imagination to roam. The silhouette of "mountain" transforms into a shoe changing area with various large and small spatial surfaces and furniture modules. This area uses abstract colors and patterns to depict memories of nature, while the velvet grass installation adds a surreal visual appeal.


主创设计师李文强以"aosua"为灵感:闽南语中"奥苏阿|aosua"的意思是后山,童年记忆里的那座无名之地,随着时间,逐渐在消失和被淡忘……
层叠视错的入口仿佛时空洞窟,夹杂着光影下的反差,重启一场想象力的漫游。"山"的轮廓赋形于换鞋区大小尺度的空间界面和家具模块,以抽象的色彩及图案拼接自然记忆,倒挂其间的绒草装置更添注超现实的意趣。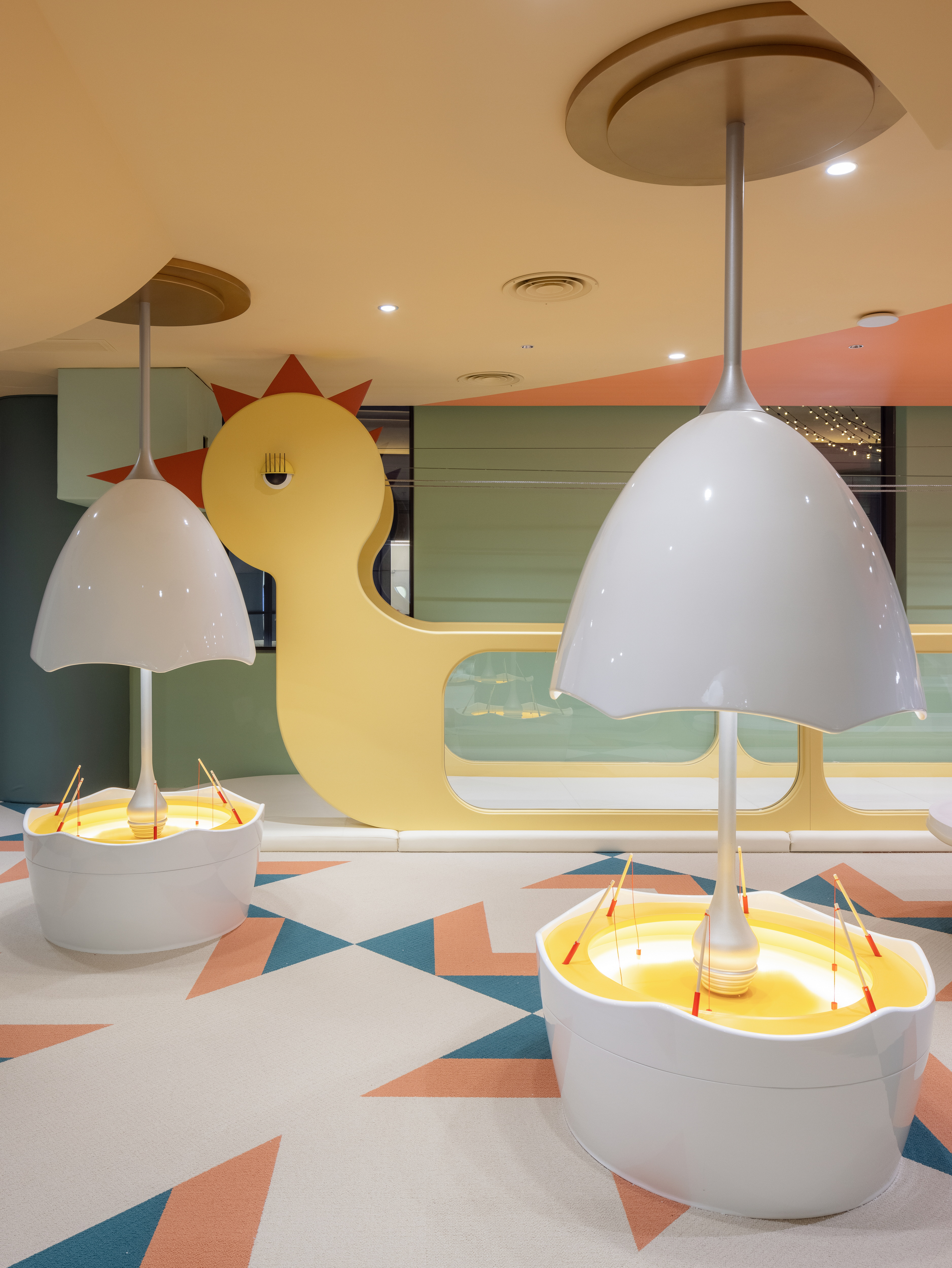 The main space is a two-level volume that contains scenes with rich depth and interior furnishings. "Back mountain" is the theme that runs throughout the spatial design. Rainbow, sun, cloud and moon elements are set around the central mountain column. Their colorful, vivid and simple scribbles become concretely real experience, stimulating an affinity for this space. Nature's palette endows the space with a full color spectrum, while numerous visual elements unite to create a lively holistic scene. It echoes Henri Matisse's idea of playing music on the canvas by using colors.

主体空间呈现双层结构,容纳丰富的纵深场景和内部陈设密度,"后山"则是贯穿始终的母题。彩虹、太阳、云朵、月亮,围绕中轴的山神柱展开布景,将斑斓炽烈的简笔涂鸦化作具象轮廓的真实体验,唤醒记忆神经中的空间好感。大自然的调色盘赋予空间全尺度光谱,众多视觉要素统一为生动的全景。尤似马蒂斯的理想,"用色彩在画面上奏出音乐"。
The free circulation route connects a series of spaces, and shows the emphasis on users in various aspects. The design adopts a low-saturation and weak-contrast color scheme, and absorbs naturally warm textures. The white light membranes simulate daylight, producing a freely-diffusing and comfortable light environment.


自由动线串联的空间序列中,采用多维度视角却依旧把关注点落在个体上,注入低饱和、弱对比的用色方案,吸纳自然的温暖肌理。照明亦多以白色灯膜贴近自然光的方式营造大面积漫反射的舒适光环境。


The impact of light spot has been minimized to the largest degree to decrease the impact of lights and patterns on colors with 4000K high-visibility display lights to create a bright, comfortable and healthy lighting environment.


最大程度的减少光斑的影响,4000K高显指的灯具减少对色彩的影响,为孩子们打造了一个明亮、舒适又健康的灯光环境。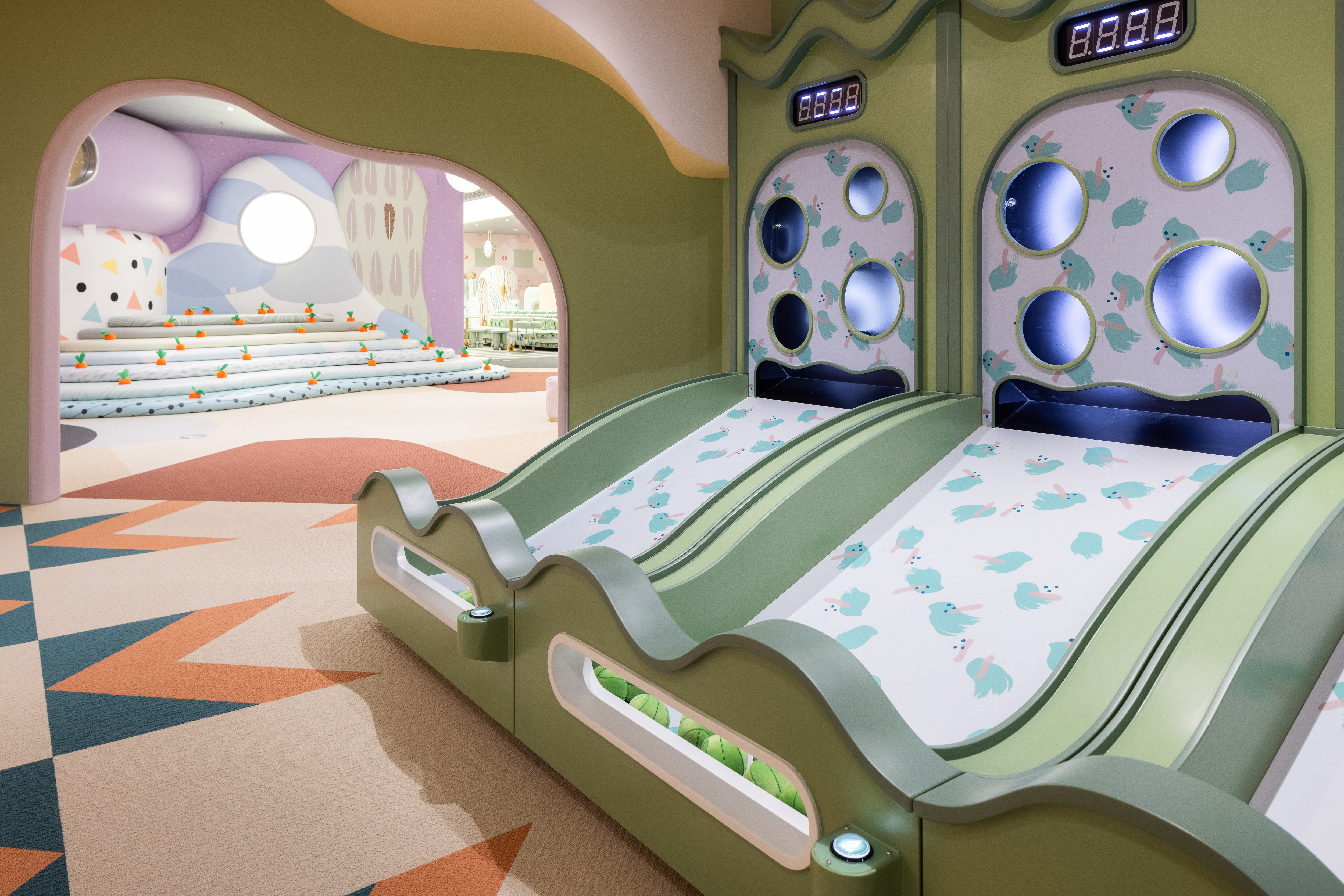 "Back Mountain" is a product of memory, through the natural environment, guide people and space interesting interaction, and gentle interaction between people and nature. This space-time dislocation intersperses "The consciousness labyrinth", not only represents the past memory and connects the future. This is a fairy tale written for children and adults, emotional resonance and the imprint of accompanying enough to nurture the seeds of enlightenment, stimulate feelings, and in the future to grow into a forest of life.


"后山"是一座记忆的产物,通过自然造境,引导人与空间的有趣交互,和人与自然的温柔互动。这个时空错位穿插的"意识迷宫",既代表过去的记忆又连接着未来。这是一部写给孩子也写给成人的童话,感性的共鸣和陪伴的印记足以蕴育启发智性、激发感受的种子,并在未来长成反观人生的一片树林。